Entrepreneurship Avenue Conference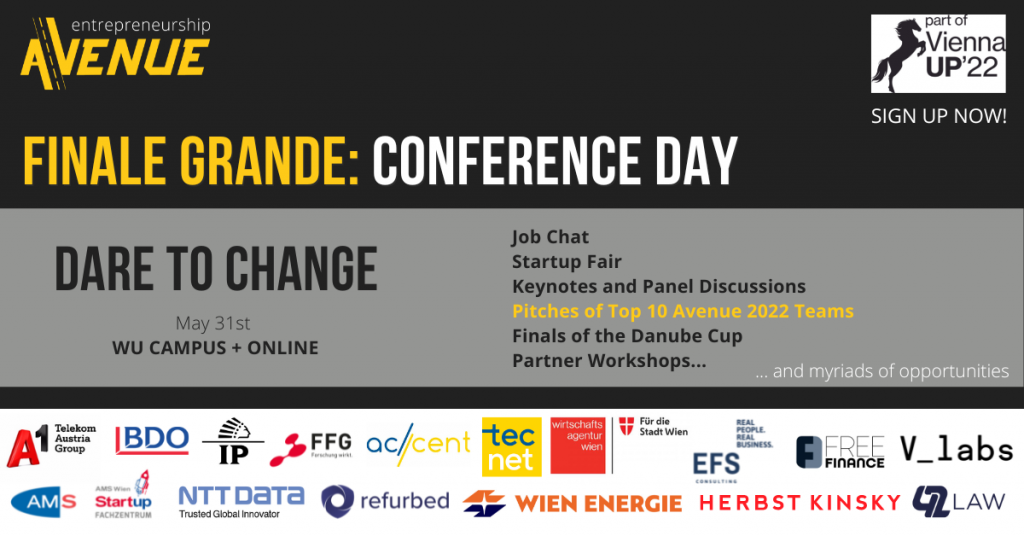 Entrepreneurship Avenue 2022 Conference
Get ready for the grand finale of the Entrepreneurship Avenue 2022! The final Conference, a full day of exciting keynotes, panel discussions, startup and corporate fair, job chat, workshops and more on May 31 on WU Campus. Let us celebrate entrepreneurship together as we will prove it one last time: Entrepreneurship is for everyone! So dare to change!
WHAT
At the Conference, renowned founders, investors, shakers and makers from various industries will come together to inspire, help and motivate students from diverse academic backgrounds to develop an entrepreneurial mindset and get active in the startup scene. They will share their experiences and insights during keynotes, panel discussions, breakout sessions and networking events.
Learn from thought-provoking keynote speakers who dare to challenge the status quo andshape the future!
Cheer on student entrepreneurs during pitch contests and connect to their can-do spirit!
Kickstart your own career in the entrepreneurship ecosystem and connect with like-minded students, founders, mentors, investors and employers!
Sounds interesting? – Then join us at the final Conference on May 31, all day, WU Campus (+ online live stream).
REGISTER NOW for free!